The requirement to simplify network management systems has witnessed an immense growth of the global software-defined anything (SDx) market. Software-Defined Everything is a big trend in Cloud infrastructure. Businesses across all the sectors are changing and are powered by IT in allowing them to remain competitive. Enterprise IT needs to be an agile, configurable, adaptive, and scalable engine to protect enterprises from evolving threats and rapidly take advantage of new opportunities ­ all of which necessitates a Software-Defined Cloud Infrastructure to power enterprise IT. Software-Defined multicloud brings tremendous efficiencies and agility to help modernize IT to give the enterprise a huge competitive advantage.
Facilitating in serving the customers with unique value propositions, VMware is offering solutions right from the desktop to the data center to the cloud platforms. VMware solutions frequent business expansion and growth. With knowledge, skills, and tools, businesses can engage customers and pacify sales and services offered. In helping to drive license and services business, VMware solution creates new business opportunities, increase business gains, and makes companies stand out from their competitors.

Streamlining an organization's journey into a digital business' podium, VMware helps tackle the virtual cloud network. A company can gain a network defined purely on software through a virtual cloud network and get the applications and data in private, public, and cloud branches secured. Services delivered by VMware solution providers improve in services receptiveness, supply application, and suppleness. Other solutions delivered include IT optimization, data center solution, IT infrastructure, network infrastructure, etc.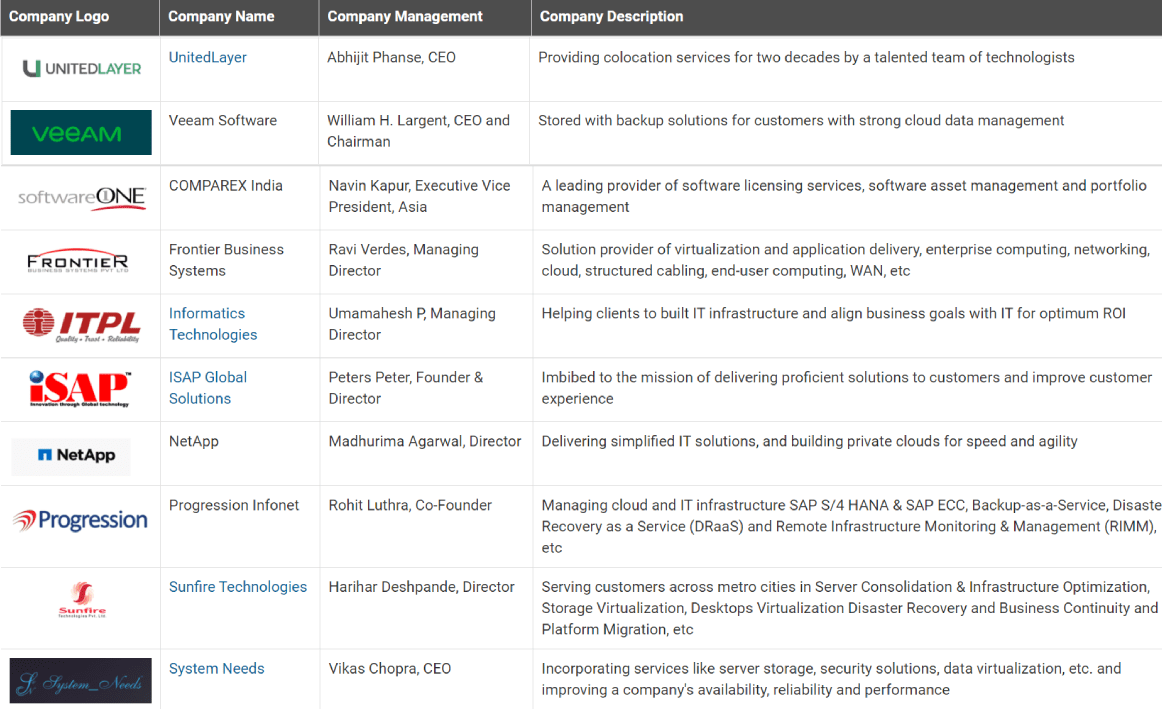 Understanding the benefits of a wide variety of VMware solutions, CIO Insider provided the list of "10 Most Recommended VMware Solution Providers – 2020." Being thoroughly scrutinized by a different board of judges, including CEOs, CIOs, CXO, analysts, and CIO Insider editorial board, CIO Insider believes these providers have proven grounds to redefine how businesses can integrate VMware software in their core competencies.
Over the past two decades, UnitedLayer has been deploying data centers and private cloud solutions for clients across North America, Europe, and other regions. UnitedLayer's Software-Defined Multicloud Data Center Platform is a technology platform that converts any legacy data center into a modern hybrid cloud and multicloud data center, with on-demand scalability into private and public cloud resources, comprehensive remote management capabilities, and DevOps automation, to enable complete remote management of your data center colocation cabinets, hardware infrastructure, and hybrid cloud with a single pane of glass.
We deliver a Virtual Data Center dedicated to each customer, which can get connected to the customer's on-premises infrastructure, and become a seamless extension of their existing data center. With its 99.999% availability and high performance, our cloud solution is something enterprises can trust to run their production workloads in an as-a-Service model, without the need to spend the capital expense for building their data center, refreshing their hardware, and the operating expense of maintaining their data center and IT infrastructure. United Private Cloud also comes with built-in business continuity and disaster recovery solutions so customers can, with the click of a button, leverage a highly redundant failover mechanism delivering a sub-one-minute Recovery Point Objective.