Architected And Deployed Hybrid Cloud Environment For A Leading Global Education Research And Development Company
The client is a leading San Francisco-based organization that deals in education research and development with the help of cloud technology. It has a diverse set of global customers, including federal clients.
Client was looking to expand its offerings in terms of software development using cloud computing technologies in the education sector
Needed a global colocation partner to host their servers outside of their data centers for one of their federal clients
Wanted to address challenges in adoption and management of hybrid cloud environments
Required to ensure security and safety of servers for the federal clients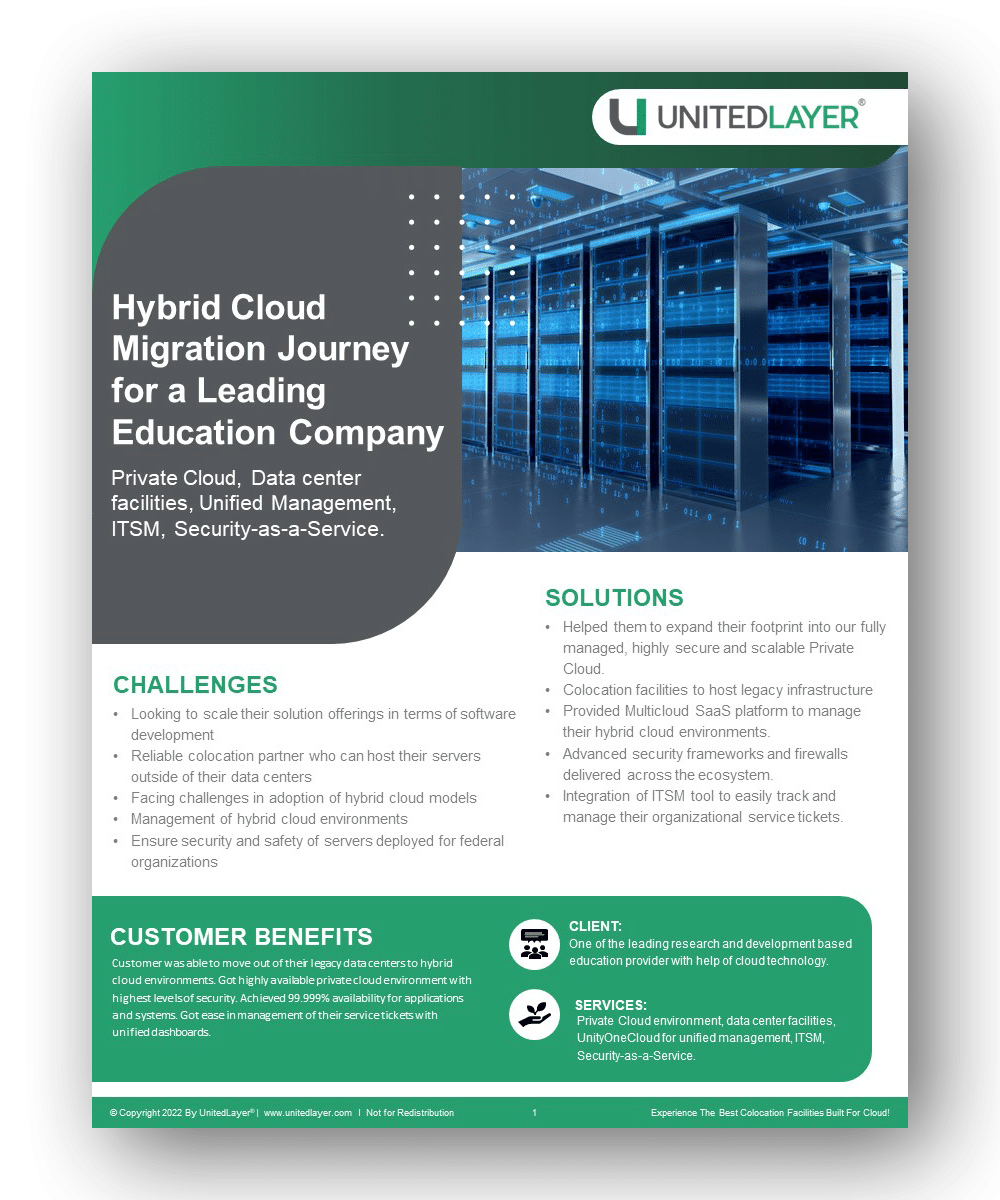 Created A Private Cloud Platform To Host Educational Applications
UnitedLayer deployed a highly scalable, and secured enterprise grade G3 private cloud infrastructure for hosting educational applications
Provided colocation racks to host their legacy infrastructure in the same Data Center location as of private cloud, with enterprise-grade security
Provided Unified Management For Hybrid Cloud Environment
Offered UnityOneCloud SaaS platform to manage their hybrid cloud environments (Private Cloud and Colocation) from a single pane of glass
Simplified The Tracking And Management Of Their Service Tickets
Integrated the ITSM tools within UnityOneCloud to easily track and manage their hybrid cloud service tickets from a single dashboard
Customer was able to move out of their on-premises legacy Data Center infrastructure to Hybrid Cloud environments.
Delivered with the highest level of security for its federal clients.
Got customer support within 15 minute response time which helped them to keep their systems always up and running.
Achieved 99.999% availability for applications and systems.
Simplified the management of their Hybrid Cloud environments with the help of UnityOneCloud.
Available G3 Private Cloud
Years Of Successful Engagement
Expert Consultation
Let our best minds work for your business excellence.
Exclusive Access To PDFs
Understand length and breadth of our cloud solution stacks.
24/7 Support Staff
Round-the-clock support to address your queries.
Download our case studies or miss an opportunity to excel in your business