Leader In US Data Center Colocation Market 2020

The Insight Partners has published the results of its research evaluating the most significant Data Center Colocation Market vendors on 33 vital criteria.
Explore Now
Leader In US Data Center Colocation Market 2020

Established in 2001, UnitedLayer is Headquartered in San Francisco, California, and is one of the world's leading end-to-end colocation service providers. The company has 13 data centers and offers its colocation services from 3 colocation facilities in San Francisco, Las Vegas, and Los Angeles. The company hosts enterprise customers across multiple industry verticals (TMT, Oil & Gas, Technology, Healthcare, BFSI, Government, and Logistics) and partners with its clients to help them achieve their real-world business objectives.
UnitedLayer's San Francisco Tier 3+ data center at 200 Paul Avenue provides colocation services from one of the largest and most connected data centers in the San Francisco Bay Area. The facility has 24×7 security, CCTV monitoring, SOC I and SOC II compliance, and is LEED Gold certified in green building strategies to support long term sustainability.
UnitedLayer's Las Vegas Tier 3+ data center is one of the best disaster recovery locations in the United States. This location is geographically uncorrelated from the east and west coast of the United States, providing a robust disaster recovery location. It is within 50 miles of 11 data centers in Nevada and has extreme connectivity to over 270 carriers.
UnitedLayer's Los Angeles Tier 3+ data center at One Wilshire is the most connected data center in Southern California. Within 50 miles of 87 data centers in Southern California, it has over 240 networks, nearly 110 cloud and IT service providers that enable multiple high-performance solutions along with scalability options.
UnitedLayer offers a wide range of leading product offerings in the data center colocation market to enable real-world high-performance hybrid cloud configurations with its UnitedEdge, UnitedColocation, and Multicloud Data Center platform. UnitedLayer delivers highly redundant robust data center infrastructure with extreme connectivity, comprehensive security and compliance, on-demand private cloud scalability, a full suite of managed services, strong remote data center management, and multicloud capabilities.
UnitedLayer provides an industry-leading data center and multicloud management platform. The Multicloud Data Center Platform enables comprehensive remote management of data centers, including power distribution units, bare-metal, network devices, virtual machines, containers, service mesh, serverless, and private and public clouds.
UnitedLayer's Multicloud Data Center Platform comes integrated to major platforms like Google Anthos, AWS Outpost, and Azure Arc. UnitedLayer offers on-demand multicloud connectivity to AWS, Azure, Google, and over 300 carrier networks and points of presence, which helps achieve extremely low latency connections to all cloud platforms, enterprise data centers, and edge locations. It delivers highly compliant enterprise-grade private cloud solutions to meet global security and compliance standards across different industries like HIPAA, ISO, PCI DSS, and GDPR. The company has a robust partner ecosystem with more than 150 partners, including leading players such as AWS, Google, Azure, VMware, IBM, Oracle, Dell EMC, AT&T, CenturyLink, and Verizon, which is constantly growing.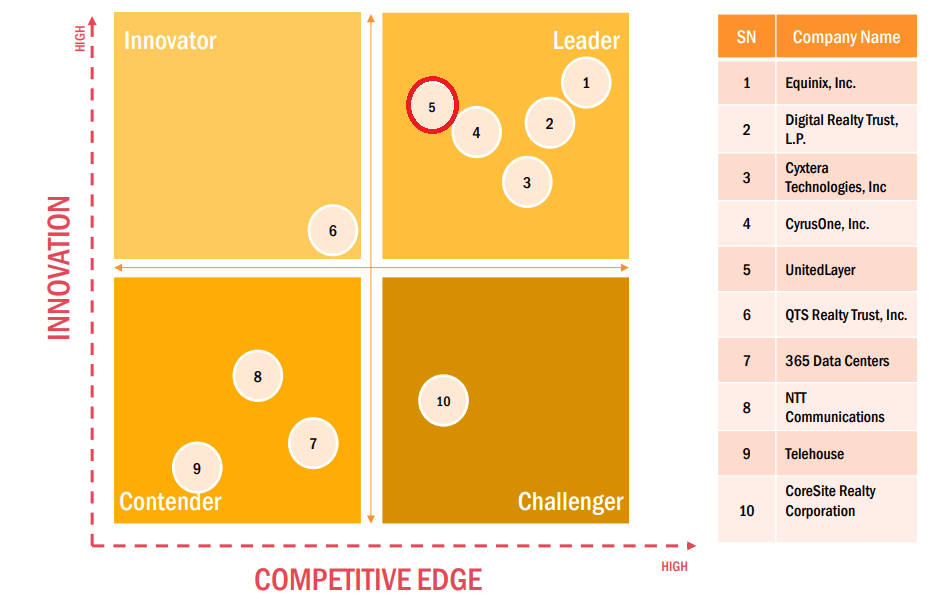 "UnitedLayer offers unparalleled colocation services involving continual innovation and upgrades aligned to the specific client requirements in the US market space. The company has rapidly evolved to be one of the significant vendors in the competitive US data center colocation market." explains Kunal Jha, The Insight Partners
Download Report
Comprehensive Partner Ecosystem
Cloud Services
IBM
AWS
OpenStack
Microsoft
Anthos
Google
Oracle
Network Enablers
Reliance
NTT
Level (3) Communication
AT&T
Verizon
Zayo Group
Security Services
Trend Micro
Symantec
F5
Cisco
Technology Services
Hewlett Packard Enterprise
VMware
DELLEMC
NEC
Digital Ocean
Akamai
ARISTA
Stackpath
Sohonet
DevOps Provider
Puppet Labs
CHEF
SALTSTACK
Jenkins
Terraform
Download Report
Connect with a UnitedLayer Cloud Certified Solution Architect to help build your scalable growth strategy and transform your business.
Support Enquiries Call: +1-415-349-2102
General Queries / Sales Call: +1-888-853-7733
General Inquiries Email: info@unitedlayer.com
Business Inquiries Email: sales@unitedlayer.com
By clicking here, I state that I have read and understood the terms and conditions.