SwingCloud – A Holistic Solution For Your Data Center Infrastructure Migrations
Ensure everything is right, from primary information gathering to installing dependencies on new locations with high security and zero downtime
The Need Of Data center Infrastructure Migrations In this Digital Era
Data centers are an integral part of businesses to grow rapidly and scale to new horizons, with growing demands and data generation enterprises require sufficient data center infrastructure to support it. With numerous reasons like company expansions or mergers or regulatory requirements organizations relocate a data center infrastructure from one facility to another to handle the future demands.
The entire process of data center infrastructure migration is not as smooth as it sounds, there are several challenges that organizations face in this journey.
Involvement of huge costs in this process
Concerns on security and safety of data
Interruptions in the continuity of business
Improper backup and disaster recovery plans
SwingCloud Embraces You To Securely Scale New Locations

Cost Effective
Relevantly price effective as compared to other players and reliable infrastructure migration services

Accurate Assessments
Optimum utilization of resources with workload assessments and dependency mappings

Highest Availability
Maximize your business continuity with the infrastructure that is always running with 99.999% availability.

Safe Transfers
Secured infrastructures and data transfers with zero data loss and leakages.

Dedicated Experts
24/7 availability of data center relocation experts to support your migration consultancies

Disaster Ready
Protect your data with continuous backups and disaster recovery plans built for businesses.
A highly crafted approach for your business excellence
A simple yet effective strategic solution designed in two steps for a successful data center  infrastructure migrations that can fit for any industry.
Our technicians assess your existing on-site infrastructures and conduct a thorough discovery on the inventory to audit the required capacity to effectively plan the data center infrastructure migrations. Experts will strategize a curated plan as per the business requirements that ensures the highest security and zero data losses.
Once the entire existing infrastructure is analyzed, the team starts installing the necessary critical workloads that you need to run your business on UnitedLayer SwingCloud. Entire dependencies will be offloaded into SwingCloud from, where users can quickly start running their business without any delay or downtime.    
 As soon as the newly relocated data center infrastructure is ready with new facilities, UnitedLayer transfers necessary workloads from the SwingCloud to the new location and delivers every critical need that may be required in the process. Ensures businesses with extreme security and zero downtime in this entire migration journey.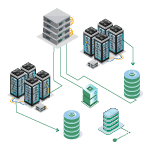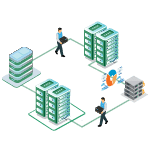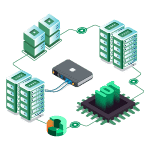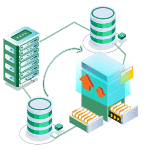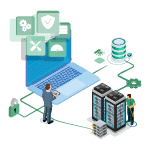 Data center infrastructure migrations can be challenging but with Unitedlayer's SwingCloud it's rewarding!
Know How To Migrate Your Data center Infrastructure To Swing Cloud
Expert Consultation
Let our best minds work for your business excellence.
Free Demo Calls
Understand length and breadth of our data center solutions.
24/7 Support Staff
Round-the-clock support to address your queries.